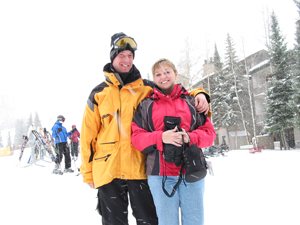 About Us
Back in the 90's, two skiing friends with a passion for snow had an idea to build what is a common site at ski resorts, "THE SNOW MAKER". They were tired of brown winters and wanted to give their children the fun they remembered when they were kids.
The idea of being able to make snow at home when mother nature was not cooperating was so compelling it became an obsession.
At that time the internet had very little information to offer on the subject and books with details on constructing small scale snowmakers simply did not exist. They worked with what they knew, compressed air, water and freezing temperatures somehow equal snow. They knew they couldn't be the only ones who wanted their own snow machine so they built a website and posted what they have learned for free, SNOWatHOME.com was born.
4 years and 4 designs later they developed the SG4-LED snow maker that surpassed even their expectations. With continued email request to sell a complete snowmaker they decided to sell the SG4-LED on the website. The response was overwhelming.
SNOWatHOME.com today has thousands of visitors every day from snow lovers all over the world. Every year SNOWatHOME strives to give their customers something new like the awesome X-Stream™ snowmakers, the 7.5GPM snowmaking pumps, and many never before offered accessories.
The owners of SNOWatHOME continue to work on new exciting snow products to proliferate the snowmaking phenomena and bring home snowmaking into the main stream.
Did you know that SNOWatHOME has been featured on several local and national media shows, such as Discovery Channel, MTV, and HGTV?
We also invite you to read about our happy customers on our testimonials page.
Interested in snowmaking? Check out our links page for some cool places to go on the web.